Using materials meant to be invisible, inform, or to support art works I performed invisible interventions at the Walker Art Center in Minneapolis.
One of the museum's pedestals was placed in front of the staircase before entering a gallery. On the front there was a exhibition plate, identical to one used in the galleries, displaying:
"Rachel Knoll American b. 1990
Camouflaged Obstruction (2012)
Performance Piece
Courtesy the Artist"
Below there was a second plate with the words: "Please do not touch.", also as how traditionally displayed throughout the Museum. On the back side of the pedistal there was an alternate exhibition plate titled:
"People looking at a Pedestal (2012)
Performance Piece"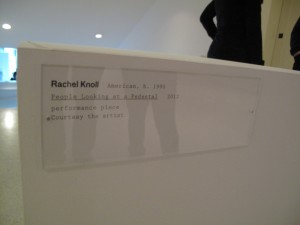 The singular object serves as two seperate works while allowing any viewer take part in a performance at the Museum.
In its likeness, I created a second pedistal to the scale of the first using foamboard.
I put the pedistal outside the 'Lifelike' exhibition.
My fabricated object bared an exhibtion plate with my name and was titled:
"Pedistal (2012)
Foamboard".